Continuing with the in the Cross Hairs series is yet another veteran starting pitcher. Shaun Marcum, who turns 31 in December, has spent the past two seasons with the Milwaukee Brewers and has been fairly reliable during that stint. Marcum's injury history does lend some concern as he missed two months last season dealing with elbow tightness. He also underwent Tommy John surgery that sidelined him during the end of the 2008 and held him out of nearly the entire 2009 campaign.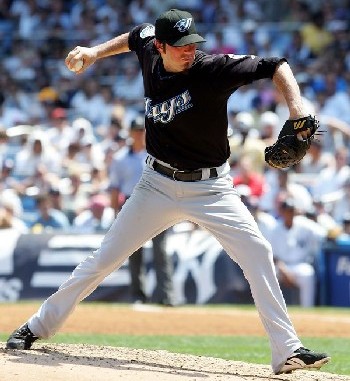 Marcum has been described as a 'crafty' right handed pitcher. Being crafty and right handed usually is a red flag for me when I think of a team making a long term investment, but Marcum has been consistently reliable when healthy. Last season, Marcum compiled a 3.70 ERA in 124 innings, amassing 109 strikeouts. Marcum does not allow many walks and continues to find ways to strike out batters. Marcum is more of a flyball pitcher but allowed a respectable 16 home runs in 124 IP last year. His average fastball velocity last year was 86.5 MPH, just slightly slower than 86.9 in 2011. Moving forward I see Marcum continuing with the success he has seen throughout the next few years, but I do not predict much of a change in how productive he will be for his next team.
Marcum could be a viable option for the Royals if the money makes sense. Marcum made 7,725,000 last year and should expect a slight raise. I think that the Royals could offer something like a three year deal in the 25 million dollar range or a one or two year deal with an annual salary closer to 9-10 million. It is not easy to judge this off season's pitching market yet, but I could see Marcum being somewhat of a hot commodity if teams are not scared away by his 2 month absence last season.
A deal for Marcum should be discussed, but players like Joe Saunders or Joe Blanton may provide similar value for less money, and free agents like Dan Haren and Kyle Lohse offer a little more upside. Unless the Kansas City native is interested in a team friendly home town discount I am not sure it is worth the investment for the Royals.