Of all the free agent pitchers on the market, including Dan Haren, Edwin Jackson, Zack Greinke, Shaun Marcum, I do believe that Anibal Sanchez is one of the more intriguing commodities. The 28 year-old Venezuelan put up a good showing in this year's postseason and there's a good chance he could parlay that into a fat free agent check. Unfortunately for Detroit, the Tigers' bats couldn't scrounge up a few runs to back him up in his only World Series appearance in Game 3. Sanchez did his part: 7 IP 6 H 2 ER 1 BB and 8 K. His counterpart, Ryan Vogelsong, got the job done as well. Vogelsong allowed 4 BB and threwjust 5.2 innings, but he was backed all night long by a stellar defense.
It was a fun series this year, despite the constant views of the Giants dugout led by the attention-seeking, black and orange fingernail painted Brian Wilson. Let me rephrase that: the dugout was fine, I was just really annoyed by Wilson. I know for a fact I'm not the only one with these feelings. I wash my hands of this.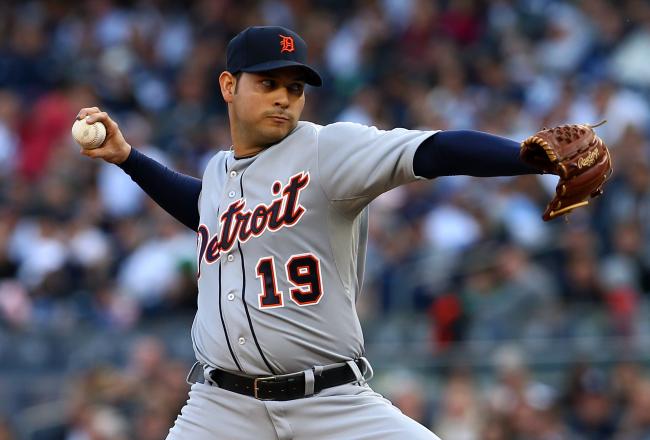 In Marlins orange, Sanchez went 5-7, 3.94, 121 IP, 110 K, 33 BB. Then July rolls around and Sanchez is traded to the Detroit Tigers with teammate Omar Infante in exchange for top prospects Jacob Turner, catcher Rob Brantley, and pitcher Brian Flynn. As a Tiger, Anibal's W/L was 4-6, posting a 3.74 era, logging 74.2 innings, striking out 57 and walking just 15 batters. What makes Sanchez so fascinating is how successful he was this postseason. Although going 1-2 in just 3 starts, he proved to be a vital part of the Tiger rotation during their journey to a championship, establishing an excellent ERA of 1.77, throwing 20 innings, allowing just 4 earned runs, 18 K and 6 BB.
Sanchez owns 5 pitches in his arsenal. Primarily a fastball, slider, changeup pitcher, with an occasional curveball here and there (used CB just 9.6% during 2012 season, via FanGraphs). He doesn't necessarily overpower the opponents, but he's no Doc Wingate (Major League: Back to the Minors). Over the span of his 7 year career, his fastball velocity has increased, but only by fractions. Averaging 91.8 mph on the gun with the heater, right at 85 with his slider and change, while the ol' 'Uncle Charlie' sat around 78 mph, respectively. A good strike thrower, Anibal kept the ball on the ground quite a bit compared to his past few seasons, giving up 270 groundballs to just 187 flyballs.
Unfortunately, I think it's a very long shot that we'll sign Sanchez to a deal this winter. According to mlive.com's Chris Iott, the Tigers will seek to extend Anibal anyway they can, while forgoing OF Delmon Young and closer Jose Valverde (no surprise on that one). Here's my view of this situation: the Tigers are going after him and they are an organization that does well when trying to keep their own talent. If the Royals are seriously targeting him, they will need to up the ante and make an aggressive early play. His price will be high, that ain't no lie. Reports have been made that he'll get between $40-60 million with 4 years hooked to it. Anibal isn't old, he's been consistent, he'll give you just under 200 innings. Personally, I think he would look better in Royals blue, rather than Tigers blue.
The Royals have made comments that they want middle of the rotation starters with front end mentalities. Based off Sanchez's postseason, I think he clearly fits that bill. Basically, what the Royals need this off season is to find another Gil Meche. There may not be a more similar pitcher on the market than Anibal Sanchez.