17. Chris Dwyer
Left Handed Pitcher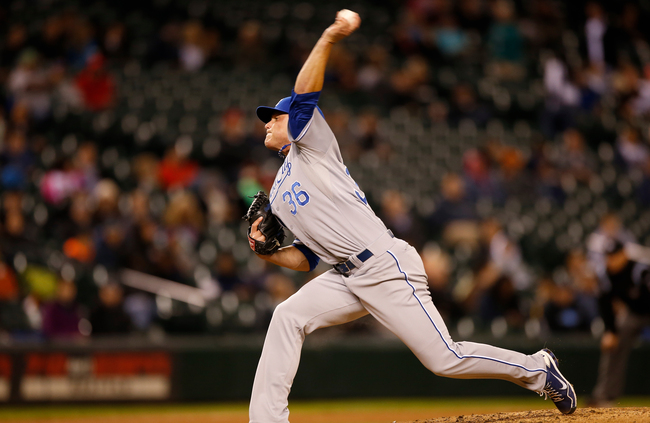 bleacherreport.com


Age: 25
Height: 6'3"
Weight: 210
B/T: R/L
Acquired: Drafted in the 4th round of the 2009 MLB Amateur Draft
2013 Rank: 18
2012 Rank: 9
2011 Rank: 7
2010 Rank: 15
Landon Adams (28):
I had the opportunity to see Dwyer first hand in 2010, while working for the Northwest Arkansas Naturals, and I was very impressed with the lefty. His fastball sat in the 93-95 range and his curveball had some serious bite. Not coincidentally up to that point Dwyer was recording 10.5 K/9. Yes, he had struggled a little with control, but he was mowing guys down and the stuff was apparent. Since that time the control has taken a step back, while the stuff has declined he has averaged just 7.04 K/9.
Dwyer made my top 30 for a couple of reasons. First, he is a guy that will get a shot in the Majors to an extent. Second, the stuff could play up if he transitions to the bullpen. From the time of that he was drafted, we've heard that a bullpen role is probably the floor for Dwyer. Despite the stuff not being what it used to be, he still has a solid two pitch mix.
The Royals are deep in the bullpen, so Dwyer figures to be on the outside looking in for this roster. My opinion would be that he should return to the Omaha rotation for 2014 and if the results don't improve (I'm talking about strikeouts and walks) then he should be moved to a bullpen role at midseason.

Paden Bennett (11):
Before last season, I had jumped off the Chris Dwyer bandwagon. I had big expectations for him from
previous
years but he just
didn't pan out. However, last year Dwyer showed me some things that made me a believer that he could be in our rotation someday.
You don't see a lot of things that jump off the page looking at his minor league numbers last season. In 159 innings pitched for Omaha he only had 112 K's and 72 walks. However, when Dwyer came up and pitched for the Royals for a brief stint last season I saw a different pitcher than what his minor league numbers showed. I saw an overhand curveball reminiscent of a Barry Zito curve and I saw good velocity. I also thought Dwyer just had the attitude that I like to see on the mound, he seemed to attack hitters and have a little swagger to him. I don't expect big things from Dwyer this year but I would not be surprised to see him have a good Spring and make a run at a rotation spot.
Joe Cox (25):
Chris Dwyer, once a top prospect in a highly touted Royals organization of years past, has turned out like many of the other pitchers from those lists. That means, of course, that things have not gone well for Chris Dwyer. Dwyer will be entering his age 26 season this year with all of three major league innings to his name.
Other than those three innings, Dwyer spent the entire year pitching in AAA, where he compiled an uplifting 160 innings. He managed an impressive 3.55 ERA with a somewhat less impressive 4.43 FIP. His walk and strikeout rates were both pretty pedestrian, as is his fastball velocity. Dwyer will provide pitching depth and could be a piece in the majors this year. Dwyer should not be relied upon as a reliable arm and I would suspect the Royals would prefer to add pitching depth thus pushing him further back on their depth chart.
Dan Ware (17):
2013 was very nice to Dwyer. Posting a 3.55 ERA in 159.2 innings, 112 strikeouts and 72 walks. Last season didn't save his career as a starter, but I would say it bought him some time. The command issues started to creep in, along with a dip in his velocity and some DL time seemed to be the culprit to his downfall in both the 2011 and '12 seasons.
Chris overcame the challenges and revamped his status as a rotation candidate. If his 2013 resurgence wasn't good enough, the Storm Chasers made it all the way to the Triple-A National Title game and put the ball in Dwyer's hand, and boy did he come through. Flirting with a perfect game into the 7th inning, giving up just a single in 7 innings while striking out 8 batters, he helped lead Omaha to a 2-1 victory, was named the game's MVP. Later in the week, the Royals called him up for his ML Debut, logging just 3 innings in 2 games.
Although his walk rate is at 10.6%, which is lower than what it's been in the past, it's still fairly high. 2014 will probably be his last chance to improve his command and to remain a starter, or else a move to the 'pen will likely be made.
Nicholas Ian Allen (--): Dayton Moore had some interesting things to say recently about Chris Dwyer:
"Chris Dwyer is a pitcher that's a little under the radar for us, but we like him a great deal," Moore said. "He's got a great overhand curveball, a pitch that a lot of left-handers don't have in the game today and therefore it makes it tough on the hitters. He's got a changeup that is really good, and his velocity picked up a little bit last year and his command really improved, so he'll got a shot to compete as well."
I would be shocked if Dwyer takes the spot. In fact, I am surprised Moore even brought him up.
Dwyer did bounce back from a rough 2012 and with his strong showing last season, Dwyer proved to the Royals he was worth protecting in the Rule 5 draft. The club rewarded him with a trip to Kansas City in September and his Major League debut September 24. That said, he pitched just three innings for the Royals in 2013 and the team has better options with more experience. Speaking of options, Dwyer has them, so there is no need to rush him. Look for Dwyer to start the season in Omaha, but be among the first call-ups during the season.
Total Points: 43