17. Miguel Almonte
Right Handed Pitcher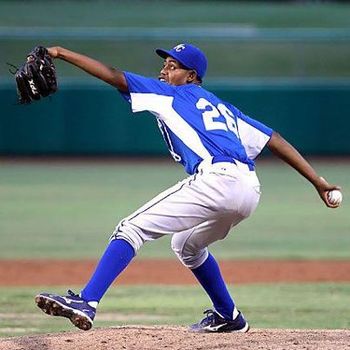 BaseballAmerica.com
Age: 20
Position: RHP
Height: 6'2"
Weight: 160
B/T: R/R
Acquired: Signed as International Free Agent
From: Santiago, Dominican Republic
Paden Bennett (18):
I put Miguel Almonte at 18 on my rankings because this kid already has the ability to control the strike zone with plus "stuff". That is rare for pitchers his age. Almonte has a good fastball that can reach 94 mph and an above average change up. His command is what intrigues me the most, this kid can locate his pitches. Now he still needs to be able to turn his curveball into a pitch that he can go to. For now though, I am happy to see a young prospect be able to control the strike zone with above average stuff. This guy is promising.
Joe Cox (21)
:
Yet another pitcher during this portion of the prospect rankings, Miguel Almonte is a very young, up and coming prospect in the Royals system. Almonte will turn just 20 in April and was one of the bigger surprises for the Royals in 2012. Almonte pitched in the Dominican league in June and was moved up for six appearances in the Arizona league last season. He was pitching well enough that the Royals sent him to the Appalachian league, where he made three appearances in relief during the league's playoffs. Almonte has a 91-94 MPH fastball with a plus changeup, a developing curveball and great command for his age. Between two levels he pitched 77 innings in 16 appearances striking out 74 batters while walking only 13. From every indication this guy has a legit arm that some scouts would consider the best in the system. After 2013 we could be talking about Almonte as one of the top prospects in the organization.
Damion Mandalas (12): Not surprisingly, I have never had the opportunity to see Miguel Almonte pitch. However, I couldn't ignore the deafening hype that this kid is starting to receive. It is tough for a low bonus kid to make much of a splash in an organization's top 30 without an inning in full season ball. It is even tougher for an individual to accomplish such a feat with only a handful of starts stateside. Almonte has big time stuff, and thanks to a new affiliate in the South Atlantic League, he should see full season ball sooner rather than later.
Dan Ware (NR): When Wil Myers was traded, this past offseason, there was a spot in the Top 10 that opened up. According to well respected prospect writer for Baseball Prospectus, Jason Parks, deserved the distinction. A Dominican native, Miguel flourished in the DOSL while going 6-1 with a 1.44 era. With no surprise, he was moved up to the Arizona League to make a couple starts, while mixing in some relief appearances. Almonte was then called up to pitch for Burlington in the Appalachian League playoffs, making only appearance, but threw 3 innings and striking out 4 batters. Miguel certainly has the makeup to be at the top of the Royals prospect list in the near future at just 20 years old.
Total Points: 42