Obviously, the Royals need pitching and like every other team in baseball they would love to get their hands on front end, cost-controlled talent. Today the Diamondbacks made when ESPN's Jerry Crasnick reported that they are also listening to offers for starter Trevor Bauer. You can read MLB Trade Rumors post on the subject
here
.
Bauer of course was selected third overall in what is already being billed as one of the greatest draft classes of all time. In fact, entering the draft it was said that if any of the four pitchers at the top of the draft fell to the fifth slot, the Royals would snatch them up in a hurry. Instead, all four were swiped up before the Royals could get their hands on them. (The Royals wound up with local legend Bubba Starling.)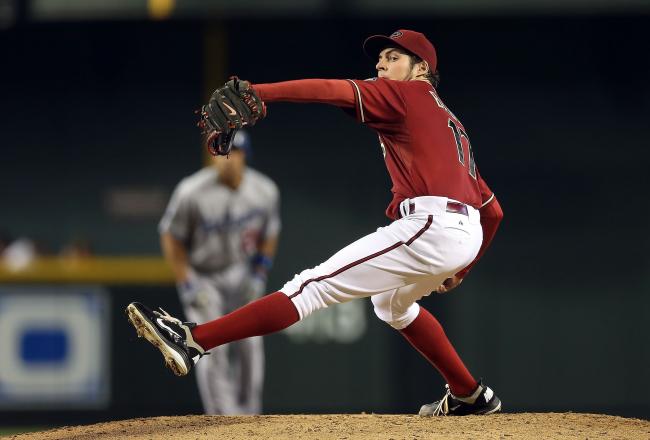 In college, Bauer teamed with Pirates prospect Gerrit Cole to form perhaps the top pitching tandem in college baseball history. Bauer finished his career at UCLA with school records in strikeouts (460), wins (34), and innings pitched (373.1). Bauer, a disciple of long toss, has taken the discipline to whole new levels of preparation. It is also no secret that he is very into his own routine and perhaps this stubbornness is what has caused a riff in the relationship between him and the Diamondbacks.
Bauer has continued his success into professional baseball. In 29 starts and 156 Minor League innings, Bauer has posted a 3.00 ERA. He has also recorded 11.5 K/9, while walking 4.2 per 9. Obviously, the guy has tremendous stuff, but the walks are a concern. The interesting part is that Bauer has been very adamant that walks are a part of his game. He has even discussed how he personally keeps track of good walks versus bad walks, explaining that in some situations a walk isn't a bad alternative.
I can't help but imagine that Bauer's personal strategy will be incredibly frustrating to pitching coaches throughout his career. However, if he can continue to strikeout batters by the truckload he just needs to keep the walks around 4 to find success. It is clear the Royals would love to get their hands on this kind of talent, but given the commitment it would take in trade, I wonder if the Royals would pursue another route if all things were equal. This is not to say the Royals don't like Bauer, but I personally don't know if he is the best fit for this organization. Whether that is a negative implication or not I'm be sure.