27. John Lamb
Left Handed Pitcher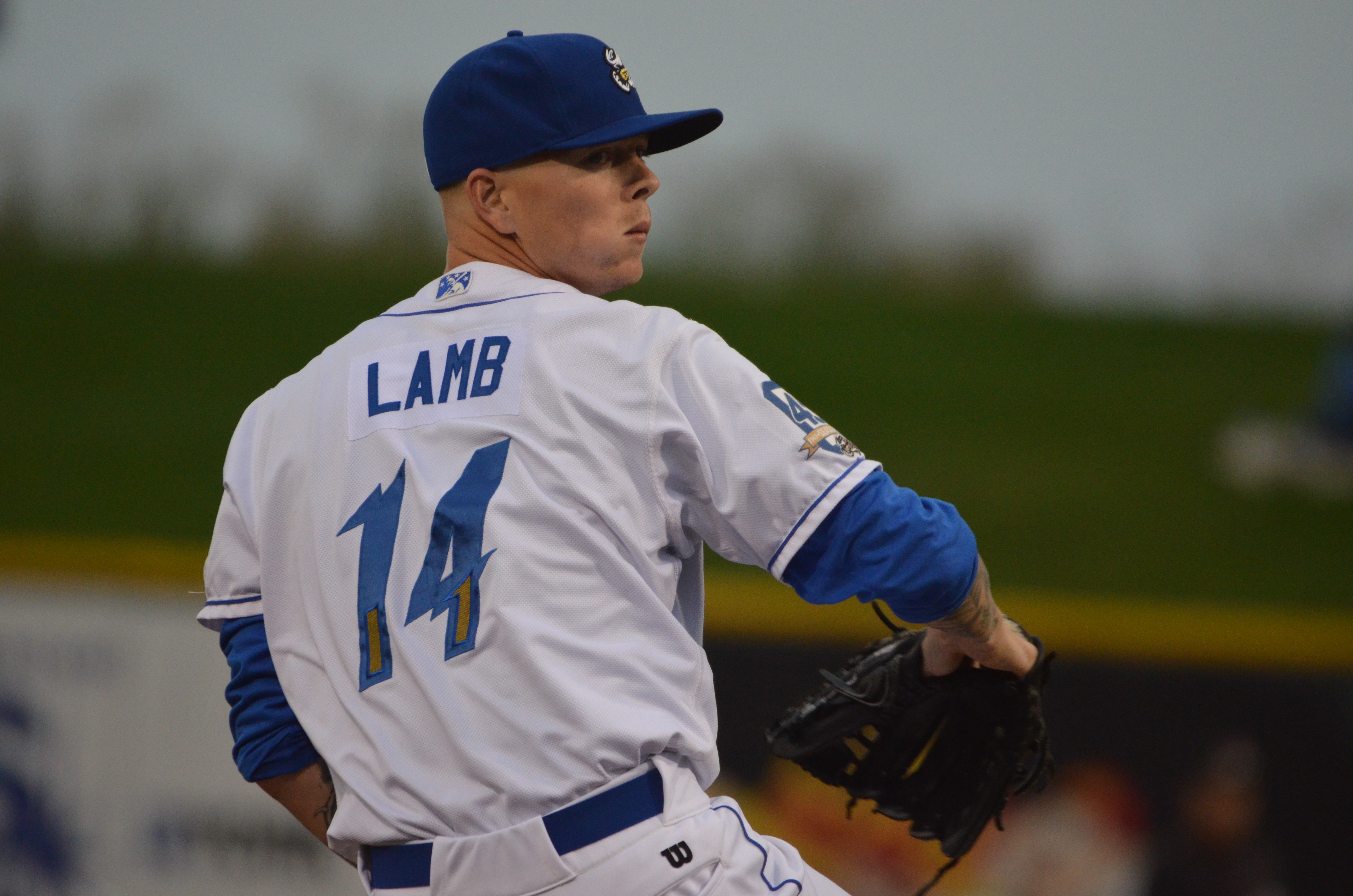 mindahaas.net


Age: 23
Position: LHP
Height: 6'4"
Weight: 200
B/T: L/L
Acquired: Drafted in the 5th Round of the 2008 Amateur Draft
From: La Palma, CA
2013 Rank: 4
2012 Rank: 5
2011 Rank: 5
2010 Rank: 9
Landon Adams (29):
There might not have been a bigger fan of John Lamb on this site than myself. Even when he underwent Tommy John surgery after his velocity was down at the start of 2011, I was impressed that he was able to post a 3.09 ERA over 8 Texas League starts. Considering that the success rate of Tommy John is approximately 90% now a days, I was confident that Lamb would return even better than before.
Unfortunately
, I have been proven wrong.
I'm not ready just yet to totally count out John Lamb. This is evidenced by my ranking of him as 29th in the organization. However, this past season couldn't have been much worse for Lamb. Not only were his numbers down, but reports that his velocity was down was even more concerning. At one point in time Lamb could dial it up to 95, but reports last summer suggested that he was having trouble reaching the upper 80s. The faint glimmer of hope occurred late in the season when it was reported that he was hitting 90 for Wilmington. I do not recall these reports being validated by any other sources.
Hopefully, for Lamb it is simply of a slow rehabilitation process. Not everyone heals at the same rate. At this point though we approximately 2-1/2 years post surgery. If Lamb's velocity can return, he could shoot quickly through the system. If his velocity doesn't return he'll serve as a reminder that despite the improved success rates of Tommy John surgery, it is never a given that a pitcher will be the same guy again.

Paden Bennett (NR):
I remember when I was extremely excited about John Lamb. I thought he would one day be a potential ace for this organization and staff for many years to come. Then the worst happened...Tommy John. The horror story continued last year as he compiled a 5.63 ERA between Wilmington and Omaha. His K rate dropped to 5.5% and his fastball velocity was in the mid 80's to upper 80s. As much as I hope that John Lamb can come back and be something close to what he once was, I'm not optimistic that that is going to happen.
Joe Cox (NR):
Lamb, a former top prospect in the Royals system, spent much of 2013 as a 22 year old lefty at High A trying to work his way back from Tommy John surgery. Lamb pitched a combined 48 innings in 2011/12, so the fact that he was able to make 22 starts last season is a good thing to see. By the numbers, Lamb pitched good but not great in his 19 starts in high A, with an ERA of 5.63 and a FIP of 4.13. The high ERA was due in large part to a below average LOB% as well as a .335 BABIP.
Lamb did show excellent control and decent strikeout numbers, with a 1.85 BB/9 and 7.38 SO/9. In three starts towards the end of the year in AAA, Lamb struggled, again struggling with runners on base, but this was a sample of just 16 innings. How good Lamb will be moving forward will be strongly tied to his velocity.
Lamb's fastball typically sat in the 86-88 MPH range, at times hitting 91 MPH, which simply will not cut it in the Majors. Some slack has to be given since he was coming back from TJS, but until we see an increased velocity it is hard to consider Lamb an important piece for Kansas City moving forward. Youth is still on his side, and a healthy 2014 and increase in velocity could bring Lamb back in the mix as an upper echelon prospect.
Dan Ware (12):
Now 23 years old, John Lamb, the once top of the tier prospect for the Royals, is now simply fighting for a chance to stay in the organization. Lamb threw 108.2 innings in both Wilmington and Omaha last season, posting a 5.63 ERA with a .335 BABIP, an 18.3% and 5.5% K and BB rates respectively.
Lamb's return to the mound since elbow surgery has been an exhausting one. The velocity on his fastball, in Omaha, was sitting at 86-88 mph, which before his elbow issues occurred, usually sat around 89-93 mph. Will we see the old John Lamb ever again? He's just now turned 23, so we have that going for us. His 108 innings was his most on the mound since 2010, so I'm sure coaches will be cautious with John come Spring Training. If he avoids setbacks and can gain some velocity, John should be back on track in no time.

Total Points: 21