Welcome back ladies and gents! It's been a while since I posted on here. Between my MBA classes (humble brag) and the surprising resurgence of the Chiefs (flat-out brag), my time and attention have been preoccupied. Fortunately for you all, I am finished with finals and decided that
Jack Zduriencik
has the right idea of getting rid of statistics from the Seattle front office. Statistics are awful. If I never have to calculate one more z-score in my life it will be too soon.
Speaking of the Chiefs, I heard Kansas City was looking to sign a former Notre Dame wide receiver. This is a good thing. If I have to watch Donnie Avery drop one more pass in a close game, I'm going to lose my friggin' mind. If only Tony G had just been brought back home, our receiving corps would look so much better. Anyway, I heard the guy's name was Jeff something-eastern-European. I guess I'll go ahead and look it up.
[Types in Jeff Samardzjia into Google]
Ohhhh, he is the all-time leading receiver in Notre Dame History. Ohhhhhh, he had 27 touchdowns in his junior and senior season. Ohhhhhhhhhhh, he was a finalist for the Biletnikoff award in both those seasons as well. Dang, this guy seems legit!!! It's just weird that he has no NFL stats that I can find … wait … what is this? He's a pitcher?!!! For the Cubs?!!! So the Kansas City team interested in him was the Royals? Well that is disappointing; but I can at least check out his pitching stats and see if he's a guy worth trading for.
[Googles Jeff Samardzjia, pitching]
Career 4.19 ERA. Career 2.29 K:BB ratio. Posted a 4.34 ERA last season. Has allowed 45 homeruns in the past two seasons combined. He seems like the type of player the Royals usually trade for …
Speaking of trades, how 'bout
Royal Revival breaking thatSmith-Aoki trade a few days back.
That was pretty awesome, no? All the writers for Royal Revival gave themselves a collective pat on the back about that one, and all are very happy to be a part of it. And while the writers at Royal Revival are very humble in their success, and are just happy that the blog prospered after making the scoop, I find myself obligated to give a big shout-out to the contributor that came up with the breaking news. Without further ado, credit will finally be given to where credit is due:
It was me.
No, for real. Also, Landon did an outstanding job sending out the tweets and writing up the articles. Remember kids, it's not what you know, it's who you know.
I will finally end this post with some very late news, and that is the new Royals alternate jerseys. I'm a big thing of anything alternate: alternative rock, alternative forms of energy, and especially alternative jerseys.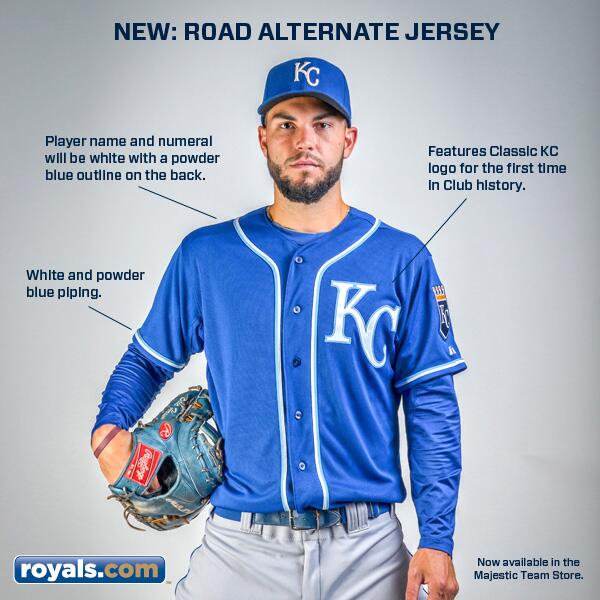 "The KC logo continues to be extremely popular with our fan base and is synonymous with Kansas City," said Kevin Uhlich, Royals Sr. Vice President-Business Operations. "With that in mind, the Royals are excited to incorporate the logo into our uniform collection for the 2014 season.
I enjoy how the "KC" logo is prominently featured. The only thing I might consider changing is the white lines that parallel the buttons. It just sorta reminded me of the blue version of those red onesie pajamas you always see cowboys wear at night in the westerns. I don't know, but that's my take.
Welp, that's it. I'm sure you'll hear from me again sometime in April. Until then, as always, you're welcome.
Follow me on Twitter @tipof_arrowhead